Fairchild PT-19
Aircraft & Rides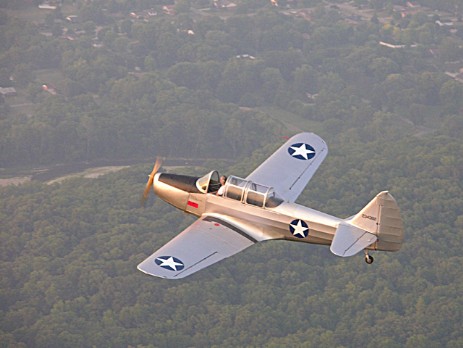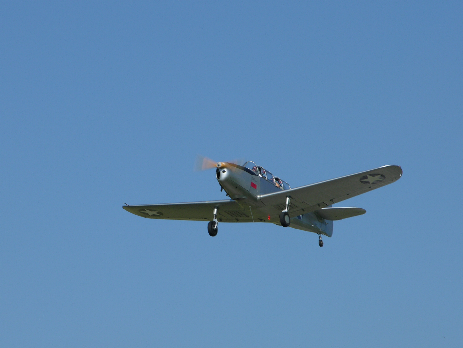 Fairchild Corporation as Company Model M-62A-3
Ranger L-440 Six Cylinder Inline
Displacement--441 cu. in.
Max RPM--2,450
Horsepower--200
WWII Cost--$2,600.00
Two (Student & Instructor)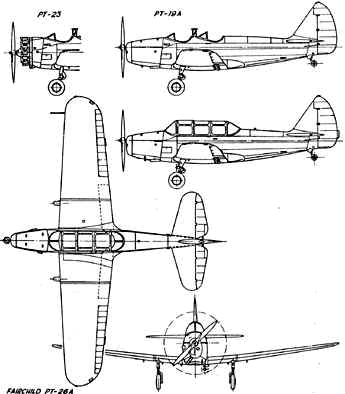 Manufacturer's S/N T43-5048
Air Corp. S/N 42-34382
Completed on 3-13-1943 at the Fairchild Factory in Hagerstown, MD, and accepted by the Army as a PT-19A on 3-19-1943 at Parks Air College, East St. Louis, IL and was in service there training new pilots until June 1944. In June 1944 it was sent to Perrin AAF, Texas. It was declared surplus and sent to storage at San Antonio Air Technical Service Center, Kelly AAF, TX on June 30, 1944. It was ferried to another field on Sept 12, 1944 and was sold off as surplus on June 14, 1945.
Sometime during it's military career, probably at Parks Air College, the canopy was added, even though it was originally manufactured in open cockpit configuration. It was restored to PT-26A configuration in 1973.
This aircraft was purchased by Butler County Warbirds, Inc. in May, 2000.
In 2007, we restored the airplane to flyable condition in it's original PT-19 configuration, but we have retained the canopy and it is painted as it would have looked during it's service at Parks Air College. It is currently
on display in our museum at Middletown Regional Airport/Hook Field, in Middletown, Ohio. Rides in this aircraft are available.