Betty Stagg-Turner
Group VIPs
The items shown here merely a fraction of the WASP related artifacts we are compiling. It shows a few small glimpses of one of the most unique group of volunteers in military history. Unceremoniously told that they were no longer needed, the remaining WASP members were sent home without VETERAN'S STATUS nor benefits. All were forced to pay their own way home. Many found work in other aviation related fields. Betty was soon employed as an aircraft dispatcher.
For a better look at the WASPs; over 600 personal stories, many in their own words, please contact us at Butler County Warbirds for a copy of Betty's book:
"OUT OF THE BLUE AND INTO HISTORY"
CREDIT CARDS ACCEPTED OVER THE PHONE or Mail MONEY ORDER or PERSONAL CHECK to
BUTLER COUNTY WARBIRDS, INC
1707 Run Way
Middletown, OHIO 45042
513-702-3062
$89.95(US) + $10.00 shipping to continental United States. International shipping quoted upon request
Contact Tim Epperhart: tim@bcwarbirds.com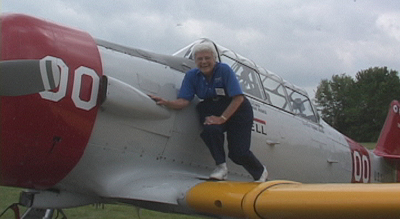 We regret to say that Betty passed away in December of 2003.
She will be sorely missed by all of us at BCW, as well as the airshow community. This photo was taken at Blue Ash (OH) Airport Days. Thanks to Mr. Jim Brown of Hartzell Propellers for allowing us the opportunity to recreate the photo you see above, which was the basis of her book's cover photo)
Photos provided by Betty: