Aeronca L-3E
Aircraft & Rides
This aircraft is in the process of being restored by our staff and volunteers. The vintage photograph below is an example of what it will look like after restoration.

Aeronca Aircraft Corporation as Company Model 65TAC
1,740 (including all variations)
Continental A-65 Four Cylinder Horizontally-Opposed
Max RPM--2,300
Horsepower--65
WWII Cost--???
One, room for one passenger (observer)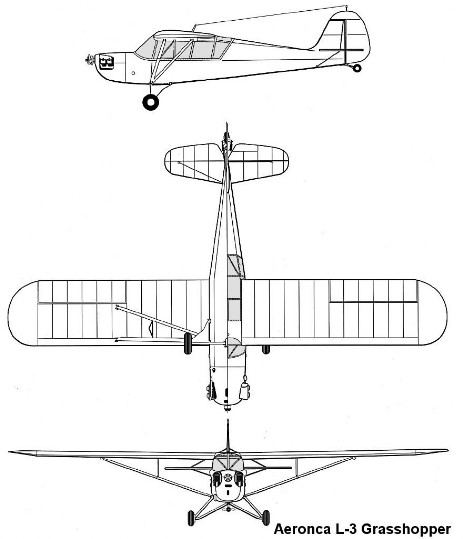 Manufacturer's S/N C2801TA
Air Corp. S/N 43-2820
This aircraft was manufactured at the Aeronca factory in Middletown, Ohio, right across the street from our museum on December 24th, 1941. It originally was sold to a private civilian, until it was purchased by the Defense Plant Corporation on July 23rd, 1942. Under this ownership, it was used as a tandem trainer aircraft with the Army Air Corps in Lubbock, Texas, until November of 1942 when it was removed from service.
After passing through several owners over the years, it ended up in a barn in Peoria, Illinois where it sat for about 30 years. It was purchased in September of 1994 and restored to flying condition. The aircraft won Best in Class at the 1997 Tulsa Fly-In at Bartlesville, Oklahoma, and again at the 1998 Aeronca Convention in Middletown, Ohio. Butler County Warbirds is currently in the process of restoring the aircraft to the paint scheme it had when it was in military service.